Order a sample box straight to your door and get a full refund off your final Acupanel® purchase.
Order now
Acoustic Slat Wood Panels
Low stock
Out of stock
Coming soon
Available for pre-order
Not sure? Try the
This product is not available at the moment, but will be joining our catalogue of products soon.
This product is currently out of stock, enter your email below and we'll notify you when it's back in stock.
Get notified when it's back in stock
1. Gluing straight onto the wall
A construction glue or grab adhesive is recommended for this.

2. Screwing directly into the wall
By using black screws for the black backing option or silver or grey screws for the grey-backed option, the panels can be screwed directly into the wall through the acoustic felt. We recommend a minimum of 9 screws per panel at 200mm intervals across the width and 800mm down the length of the panel. If installing into ceilings, then make sure they are screwed into ceiling joists. Please make sure the correct fixings are used if going into plasterboard, for example.

3. Screwing the panels into 45mm timber batons
We recommend screwing 45mm timber batons to the wall and then screwing the panels directly into the batons through the acoustic felt to achieve optimum sound absorption. Combined with Rockwool sound insulation behind the panels in between the batons, this will achieve Class A sound absorption.
We offer free shipping to the mainland UK. We aim to despatch and deliver all in-stock products within 5-7 working days. We'll send you an email when the order is despatched, and our courier will send you the tracking number on the day of delivery.
Overview
With Acupanel®'s range of ready-made acoustic wood panelling, you can make any wall a work of art. Made from contemporary grade wood veneer that's been carefully chosen for its consistency and character, all our slatted wall panels are cut and oiled by hand in our UK workshop. And with each panel pre-bonded to a rigid recycled felt backing, Acupanel® promises soundproofing that's second to none. All panels measure 60cm in width and 240cm in length, the exact size of a standard UK ceiling. All that's left to do is trim to fit the space and screw directly into your wall.
Share your style
Coverage calculator
Tell us the measurements of the space you'd like to cover and we'll calculate the number of panels needed for your project.
To cover a space of x , you will need

Each panel measures x - in total.
Panel measurements
Choose the side that you want to examine:
Perfect for residential and commercial use
Acupanel® slat wood panels are ideal for residential and commercial applications, from home interior design projects to restaurant refurbishments to significant-scale hotel developments. The panels deliver not only a visually eye-catching wallcovering solution but also bring the added benefit of acoustic dampening qualities to any project.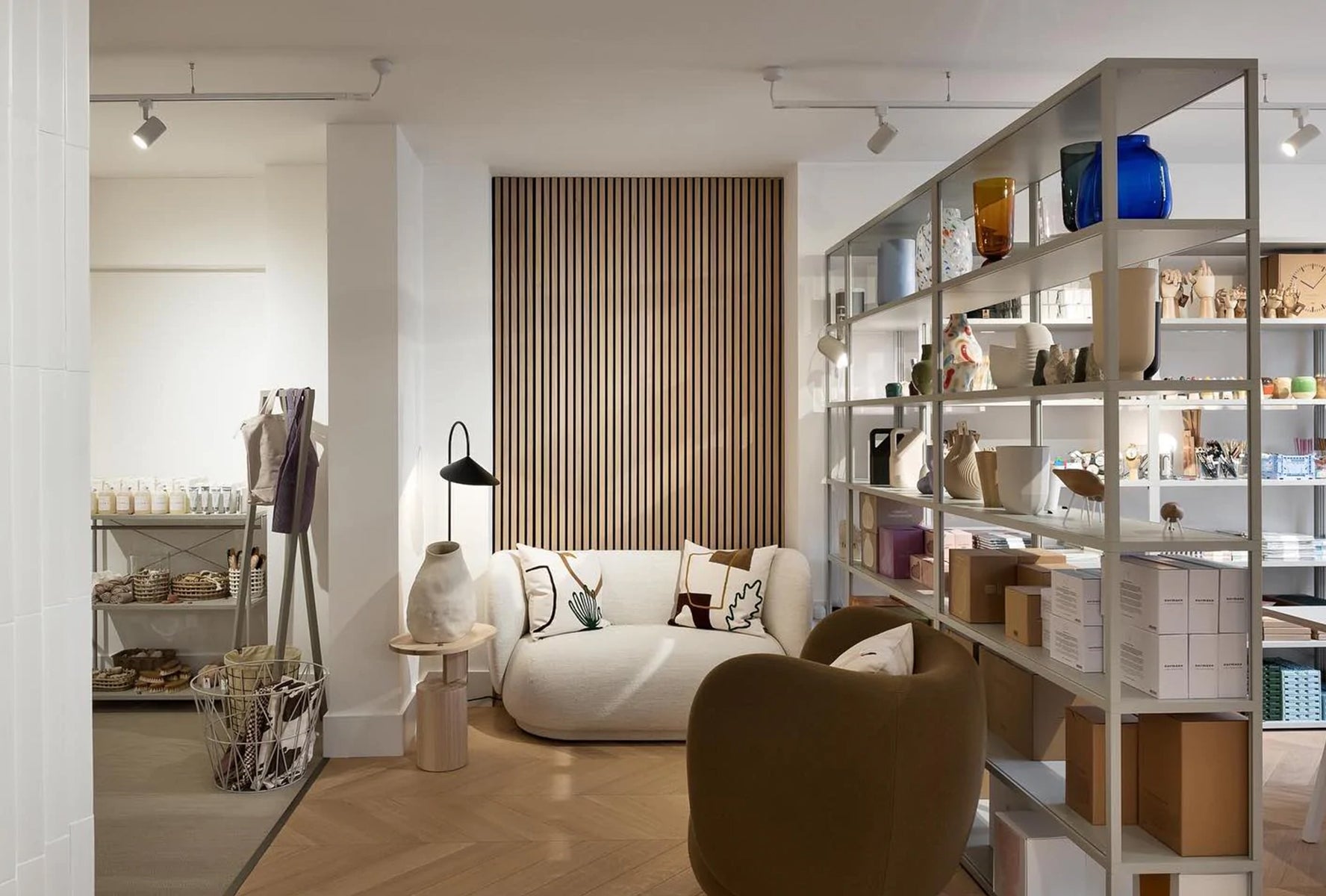 An environmentally friendly interior design solution
The acoustic slat wood panel range not only offers aesthetic beauty and excellent acoustic dampening but is also created using only environmentally sustainable materials. All materials are sourced and produced from certified sustainable sources—a completely environmentally friendly product.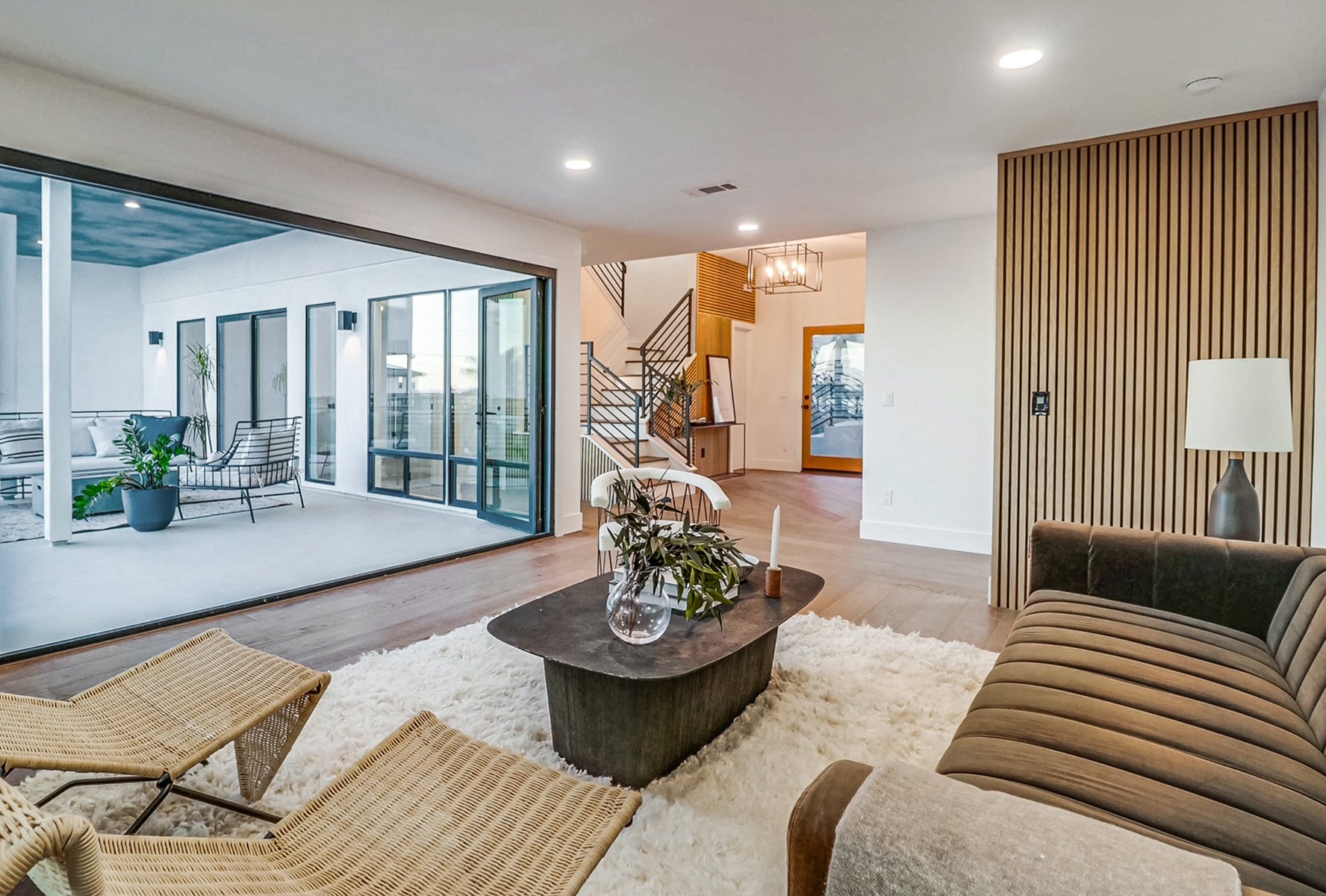 Modern and elegant handcrafted design
The wood slat wall and ceiling panels have been thoughtfully designed to seamlessly transform any space, enhancing the surroundings both visually and acoustically. They help to create an environment that is not only quiet but beautifully contemporary, soothing and relaxing.
Love my new walls!

We installed these panels to improve the sound quality in our very echoey kitchen. They've certainly deadened the noise and they look fantastic too. Really pleased with the finished look. Delivery was free (even up to us in the North of Scotland -which is rare) and really quick, would definitely recommend.

Reviewing

Acoustic Slat Wood Panels

Great Looking Panels

Panels are looking great. Really happy with the build quality. Fairly easy to trim to size and install. I'm only using them for decoration, so I cannot comment on their acoustic attributes. I would definitely recommend them to friends and family. Oh and in case anyone else out there is interested, I selected the "Natural Oak & Grey Felt" option and the wood colour is fairly close to the IKEA "White Stained Oak" colour of wooden furniture.

Reviewing

Acoustic Slat Wood Panels

Real style and easy to fit

Just loving our new acoustic panels, they have really changed the look and feel of our room. Great customer service, thank you Megan. So easy to fit.

Reviewing

Acoustic Slat Wood Panels

Definition and style to an open plan layout

Fast delivery, stylish - need to be handy with a saw to get the cutouts right

Reviewing

Acoustic Slat Wood Panels

We luv these wood panels

Having spent ages looking at different options for covering our fireplace we kept coming back to these. They look great and easy to work with and with the spare bits we created some matching designer storage pieces 😁.

Reviewing

Acoustic Slat Wood Panels

Great product

Great product, looks great in my lounge. You do need a reasonable level of DIY experience to fit particularly if fitting around sockets and switches.

Reviewing

Acoustic Slat Wood Panels

Stunning

I would recommend investing a little extra after your purchase of your Acupanels in a track saw to obtain a professional finish. The results are better than I could have hoped for, and the panels were easier to cut and fix than I had anticipated. I think one panel wasn't engineered up to the standards of the others (I will contact Acupanel to discuss) but overall I am very pleased with the product and end result.

Reviewing

Acoustic Slat Wood Panels

My slat wood wall

Looks Absolutely beautiful on my wall

great quality fast delivery

Reviewing

Acoustic Slat Wood Panels

Home Office feature wall

I chose the acoustic slat wall panel for our home office refit. This was to stop the reverberation on phone calls. It also looks superb as a feature wall making a nice calm space to relax

Reviewing

Acoustic Slat Wood Panels

Smoked oak panels

Really happy with the result. I got the smoked oak panels. Quick delivery. Easy to put up.

Reviewing

Acoustic Slat Wood Panels

Very Pleased

I really love the difference the panels have made. It really made a difference to the sound quality of the tv and they look fantastic.

Reviewing

Acoustic Slat Wood Panels

Feature Wall

Great new feature wall, with friends and family asking about it

Reviewing

Acoustic Slat Wood Panels
Reviews Loaded
Reviews Added
Out-of-the-box wall panelling that not only looks good, but does good
Recycled acoustic felt
Our acoustic felt can offer class A sound absorption - ideal for keeping noise reverberation to a minimum or simply creating a quieter, more comfortable space to relax. Sustainably sourced MDF
We're committed to protecting the forests that supply our wood. Our MDF slats are made using materials that come entirely from sources that we know and trust.
Luxury wood veneer finish
With over five decades of wood veneer supply and veneered product development, we only source the best possible wood for our acoustic slat panels.
Unfinished
Oiled Finished
Enhance the colour and grain of the wood with a luxury hand-oiled finish.
The beauty of natural wood is that every log cut is unique. Each colour and grain pattern you see will be different to every other tree in the world, making wood one of the fascinating materials on the planet. The only way to make the wood more stunning is to add a finish. We offer a finishing service that applies a high-quality luxury satin oil to the wood, enhancing the colour and grain, making it even more striking than it already is.
Add an oiled finish
Your Acupanel® questions: answered
The acoustic wood panel range comes in panels measuring 240cm x 60cm.
We have designed the panels to join width-ways and long ways seamlessly so any length or width can easily be achieved.
If you want a class A sound absorption, we recommend installing the panels with batons. However, if you're going to have them for decorative purposes while still providing sound absorption, we recommend screwing the panels directly into the wall through the acoustic felt backing using black or grey screws, depending on your choice of backing.
We do not currently offer the panels in custom sizes; however, we have designed them to be easily cut if you need smaller or they can be joined if you need to cover larger areas
The panels will be absolutely fine in these areas as long as they are not in direct contact with water, although we recommend applying a water-resistant finish to the front of the slats to protect them against any moisture or humidity.
The acoustic slat wood wall panel range is designed for indoor use only.
The acoustic panels come with an option of unfinished or oiled finished. Unfinished allows you to finish it any way you choose. We recommend adding a finish, whether it's an oil, wax, lacquer, or varnish, to protect the wood, and while doing so, it also enhances the grain and colours of the wood. Our finished panels come with a protective satin oil applied which will increase the richness and warmth of the wood.
It is straightforward to adjust the panels to fit around any object. You can cut the slats' widthways with a saw, and the felt lengthways with a sharp blade to apply around any item you may have on your surface.
You can mount the panels on all surfaces, including brick, concrete, and plasterboard.
The wood used is always from the same source, so they will always look more or less the same. It is natural wood, however, so knots, slight cracks, and colour variations can occur.
The panels have been designed to have the edge exposed. When cutting through the slats they are black throughout so an edge will always look like the rest of the panels. Alternatively, we also offer an end trim available in the accessories section.
The felt acoustic backing is fire-rated. However, the face materials are not. Please get in touch with us for more information.
If installing with batons, you can use mineral wool or other sound insulation material in-between the gaps, increasing the sound absorption properties even further.
Yes, you can purchase a custom sample box from the navigation above.
Can't find the answers you're looking for?
Our team is on hand from Monday to Friday, 9am - 5pm, to answer any questions. Give us a call on 01525 851166 or email us.
Get in touch
Can't decide which panel is right for you?
We sell 12cm x 30cm samples of our full Acupanel® range. Order as few or as many as you like - we'll just take the value of your sample box off your final Acupanel® purchase.